Transatlantic Racial Protest
Transatlantic Symbolism in the March to Freedom for Surinamese Independence

1970s:
Protests Suriname independence
From 1970 onwards, Surinamese and Surinamese-Dutch organizations in the Netherlands increasingly raised a voice against Dutch imperialism and colonialism in Suriname, while also demanding an independent Suriname. The solidarity meetings and protests that resulted from this occurred at a time when Suriname was no longer an official colony of the Netherlands. However, the Netherlands still continued to economically exploit Suriname after 1954, and discriminatory practices upheld the unequal distribution of power, thereby restraining opportunities for Surinamese people through all levels of society.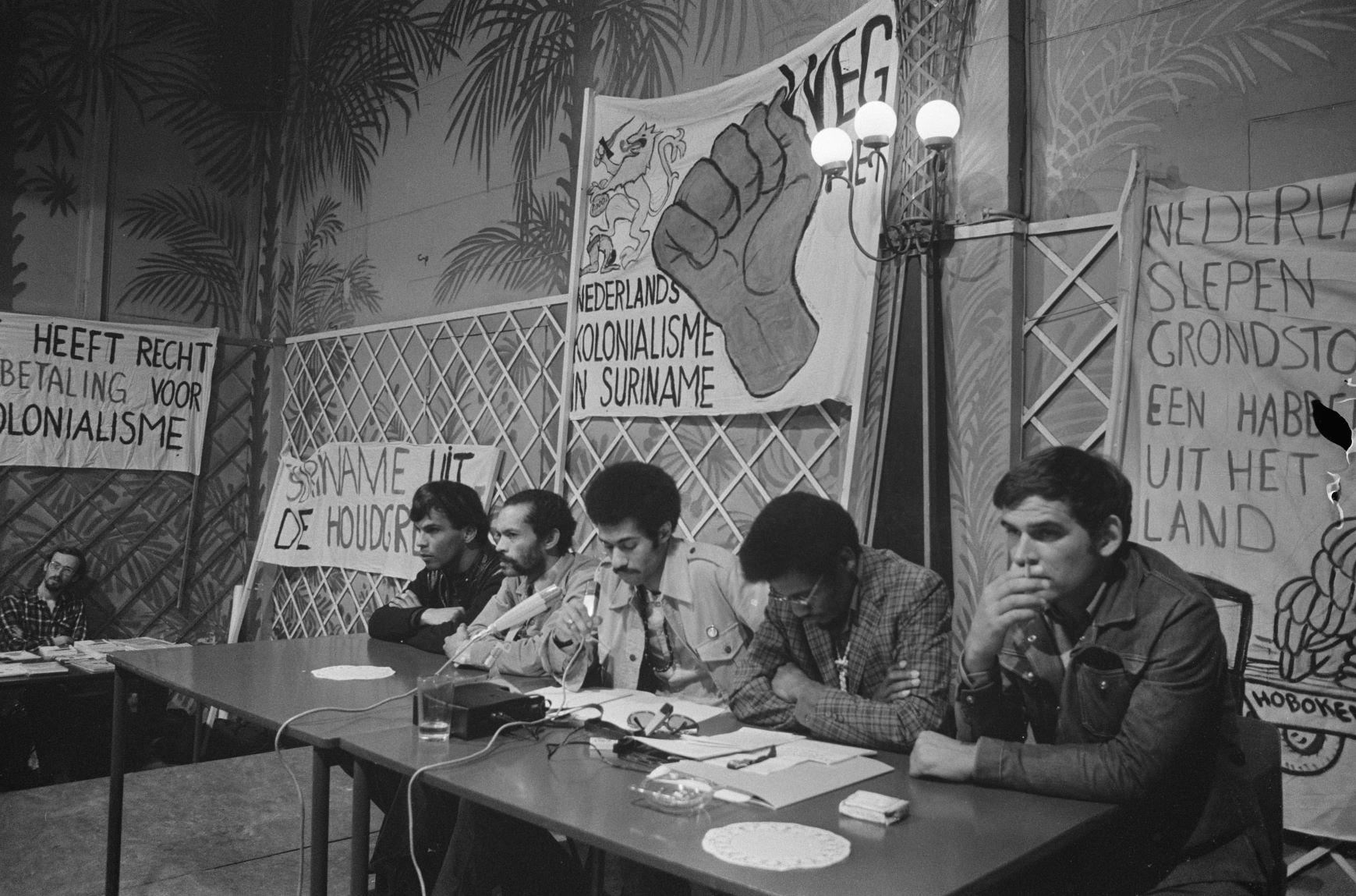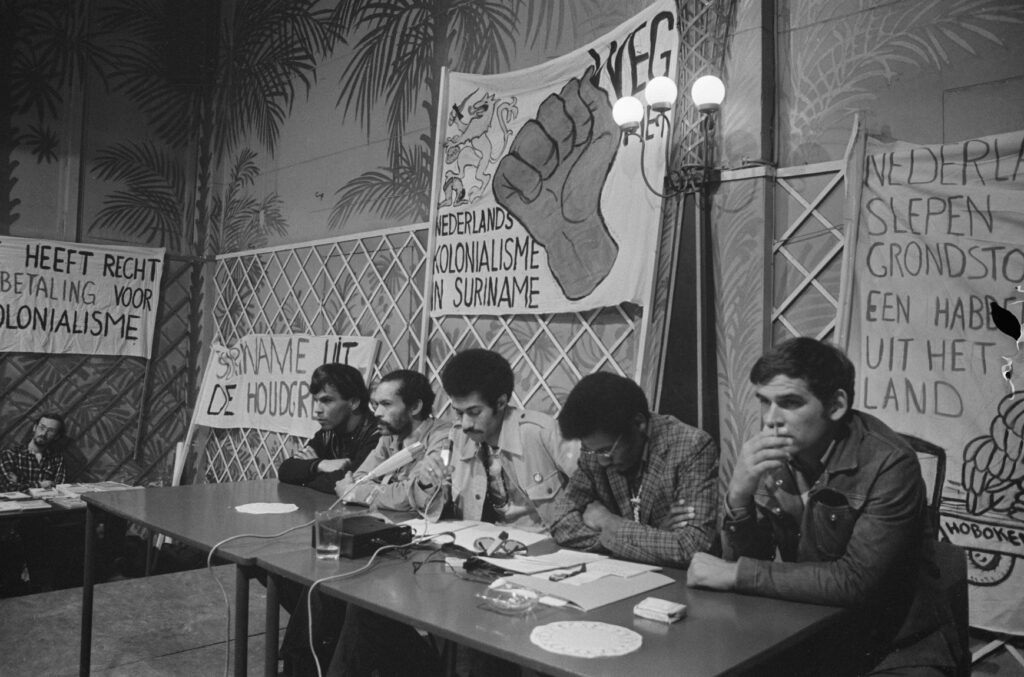 Image (c) Bijeenkomst van Surinamecomite onder motto "Suriname onaafhankelijk nu" in Brakkegrond, Amsterdam, overzicht. Fotocollectie Anefo: Bert Verhoeff, Amsterdam, 1 July 1971. Nationaal Archief, collection 2.24.01.05, item 924-6929.
On July 1, 1971, this photograph was taken of a meeting in Amsterdam, organized by multiple Surinamese and Surinamese-Dutch organizations. These solidarity meetings were becoming more common at the start of the 1970s, thereby showing an increase in organized discontent, condemnation, and demonstrations,. The situation and developments in Suriname were frequently discussed during such meetings, for instance by providing information on labor strikes that occurred. Perhaps more interesting from a transatlantic perspective, however, are the four protest signs that are hanging in the background, since these were all visible in the March to Freedom that took place in Amsterdam on December 11, 1971, still four years before Suriname would gain full independence.
Amsterdam March for Freedom
The March to Freedom was organized by thirteen Surinamese and Surinamese-Dutch organizations and its main purpose was to demonstrate that they repudiated the continuing economic exploitation under the 'commonwealth'-relationship between the Netherlands and Suriname, while also reflecting back on three-hundred years of colonialism, imperialism, and slavery through handmade protest signs, posters, and placards. These protest signs mainly express a grave discontent with the suffocating presence of Dutch colonialism and economic exploitation in Suriname, thereby also focusing on the legitimacy of reparations because of this oppression.
An interesting recurring symbol that is characteristic of this March to Freedom can be seen above the panel members in the photograph. The raised fist reappeared on a lot of protest signs, sometimes red in association with anti-capitalist socialism, sometimes black in reference to black empowerment. Exactly this latter characteristic has a transatlantic connection, as the raised black fist became an iconic symbol during the civil rights movement and black power movement in the United States, especially because of the Black Panther Party.
Although it is uncertain where the raised black fist originates from, it is definitely true that it became a globally renowned symbol during the black power movement, especially due to the Black Panthers and their attempts to empower black people to create a more equal society. Another incentive for the rise of the prominent symbol is the Olympics of '68, during which American athletes Tommie Smith and John Carlos raised their black gloved fists during their medal ceremony.
Both the Black Panther Party and the Surinamese and Surinamese-Dutch organizations around the March to Freedom strived against discrimination and for improved living conditions for minority groups, albeit with different approaches. As the Black Panther Party culminated during the 1960s and the March to Freedom was organized in the 1970s, it could well be possible that the raised fist that was frequently portrayed on protest signs in the March to Freedom can be connected transatlantically as a form of inspiration or influence that originated in the black power movement in the United States. This enhances the understanding of transatlantic relations, as this shows transatlantic ties that date back to a period as early as the 1970s.