Transatlantic Racial Protest


©The Carolina Times (Durham, N.C.), Dec. 27, 1958, Edition 1, LCCN: sn830451120 
On October 28, 1958, two African American boys aged approximately seven and nine were violently arrested in Monroe, North Carolina for kissing a white girl on the cheek. They were not given a fair trial and sent to a reformatory. The so-called Kissing Case gained international attention and sparked transatlantic protest actions in reaction to how African Americans were treated in the United States. 
More About the kissing case
The events on Monroe, North Carolina on October 28, 1958 took place in a time when black people were still largely living 'separate but equal' from white people, and not long after the decision in Brown v. Board of Education that ruled segregation in public schools unconstitutional which was the start of a lengthy process of overturning segregation. Many white parents were struggling with the notion of their children sharing a school with African Americans. While they could not change the court's decision on children being in the same public schools, mixed-race relationships or crossing the color line concerning anything that could be seen as sexual was still extremely non-negotiable and unacceptable.
Therefore, when the eight-year-old white girl, Sissy Sutton, told her mother that a nine-year-old African American boy, Hanover Thompson, had kissed her on the cheek, her mother was enraged. She called the cops who violently arrested Hanover Thompson and his friend, David Simpson, who was witness to the 'crime.' They were sent to a reformatory with the possibility of release by the age of twenty-one and refused legal counsel. A Monroe local said, "If [black children] get into our rural schools and ride the buses with our white children, the Monroe 'kissing' incident is only a start of what we will have," showing that the idea of shared public schools was increasing white people's fear of desegregation on other levels. The case attracted global attention, and protests arose across Europe. Especially in the Netherlands, the Kissing Case gained a lot of media coverage. Operation Snowball is a clear example of historical overseas actions concerning racial protest.
It is easy to think that worldwide participation in racial protests such as the contemporary Black Lives Matter movement are something relatively new. That, facilitated by technological development, news spreads faster and communication between people on either side of the Atlantic ocean enables this cooperation. However, we should not be mistaken and believe that this is only a present-day phenomenon. While it is fair to assume that technological developments such as widespread social media use makes mobilizing people easier, they also had their ways in the late 1950s.
Operation Snowball (or Operatie / Actie Sneeuwbal in Dutch) is a good example of historical transatlantic participation in racial protests. In studying this operation, we can draw a lot of parallels between then and now. By focusing on spreading awareness and firing of press releases, the Committee to Combat Racial Injustice (CCRI) established by, amongst others, Robert F. Williams, gained a lot of media coverage in the U.S. as well as overseas. In the Netherlands, leader of Operation Snowball, Stephanus Saris, wrote to schools and newspapers all over the country to ask for letters of protest and collected more than 12000 in a week. Dutch newspapers caught wind of the success and covered the Operation, some even continuing Saris' work and urging their readers to contribute as well. 
"We request everyone, that supports this actions (which goal is to free two negro boys aged 10 and 8, who kissed a white girl and were sentenced to a reformatory until 1970), to contact mister R. Langevoort, Javastraat 14 in Zwolle or mister Saris in Rotterdam."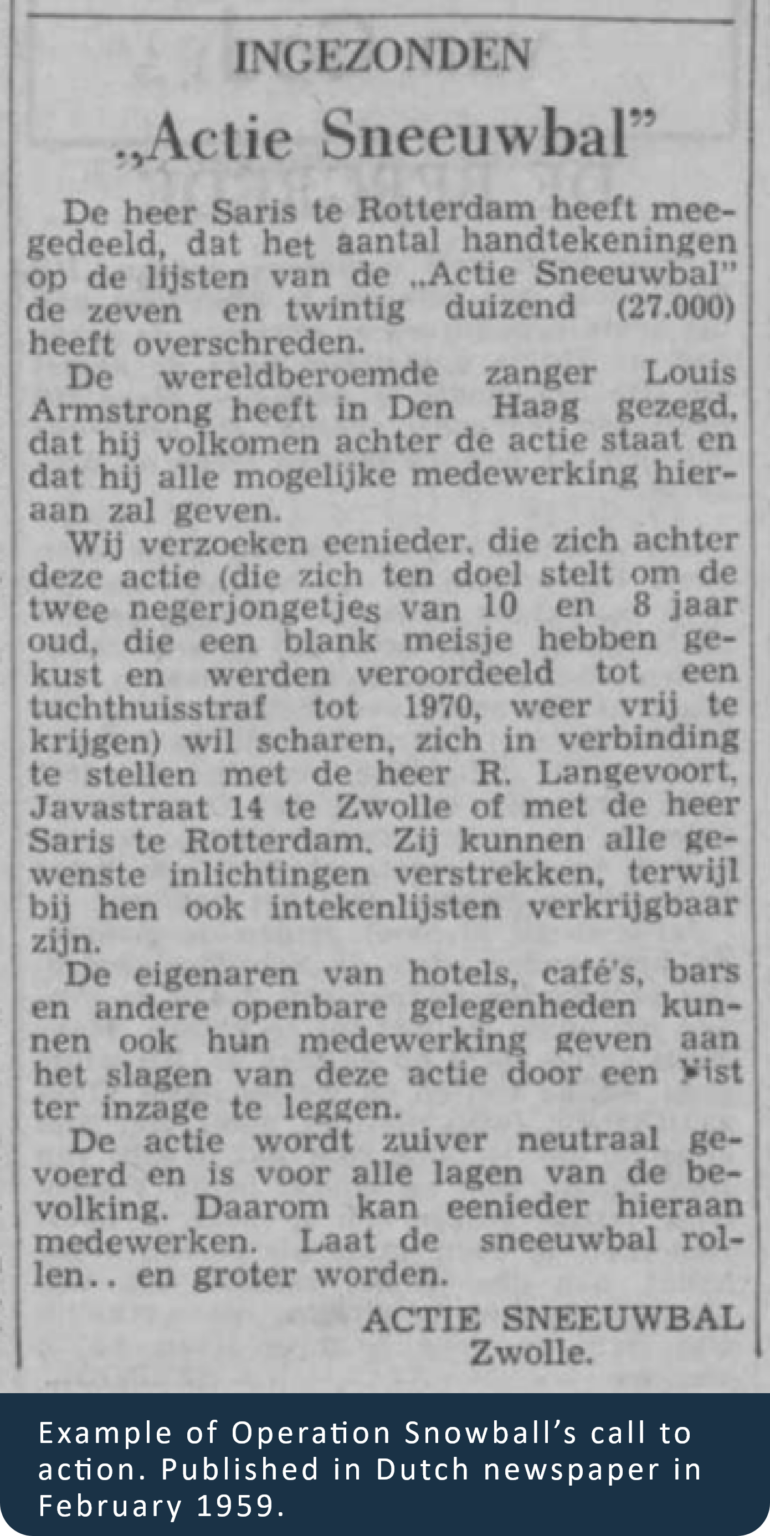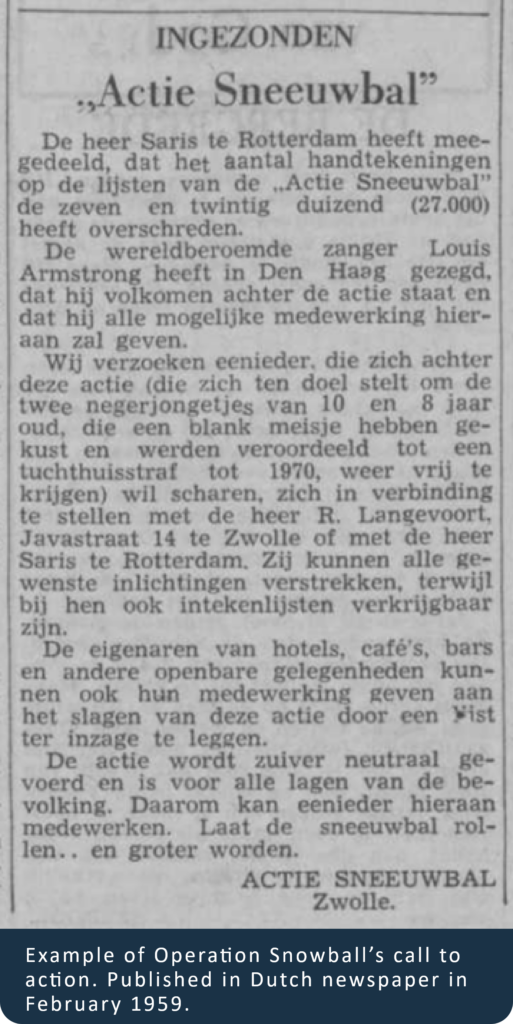 © "INGEZONDEN 'Actie Sneeuwbal'". "Overijsselsch dagblad". Zwolle, 1959/02/11, Accessed on Delpher on 26-01-2021, http://resolver.kb.nl/resolve?urn=MMKB23:001280022:mpeg21:p00003
While it is thus true that it might have been more difficult to quickly reach a large amount of people to protest than it is through social media, through letters, newspapers and fax, Saris was able to set-up an overseas reaction that worried American officials. Operation Snowball revolved mostly around collecting signatures and letters. Now, we can see similar actions in a more modern way, such as online petitions. However, Operation Snowball led to different forms of protest as well. This is where we can visually also see history repeat itself. We are no longer strangers anymore to seeing protests in the Netherlands against racism and in solidarity with the protests in the U.S. The first picture below, published in Dutch newspaper Algemeen Dagblad, portrays schoolchildren participating in Operation Snowball working on a project concerning the case. On the other pictures, published in Dutch newspaper Het Parool, you can see representatives from eleven different schools protesting at the American embassy. While we might be used to seeing larger-scale protests, these images show that the actions and situations are similar to what is happening today. So instead of thinking that this transatlantic cooperation on racial protests is something relatively new, we should understand that it has played a role for a long time. Therefore, we should also be aware that even with large-scale transatlantic actions, racism remains alive today. We can thus learn from the past and realize how long the fight against racism has been going on, but it also shows us that we have to start making changes. Otherwise, the same comparison could be made again in 60 years.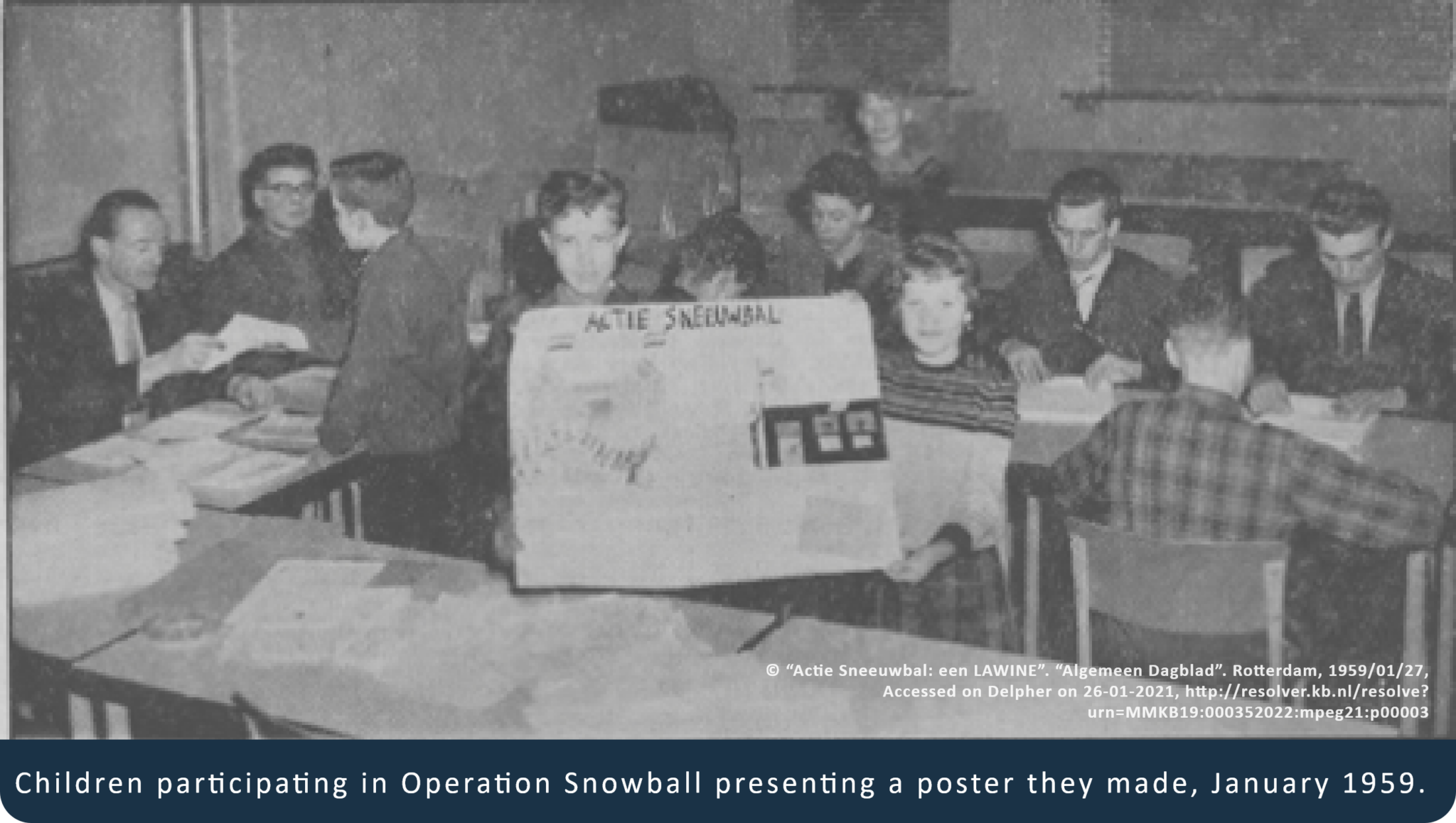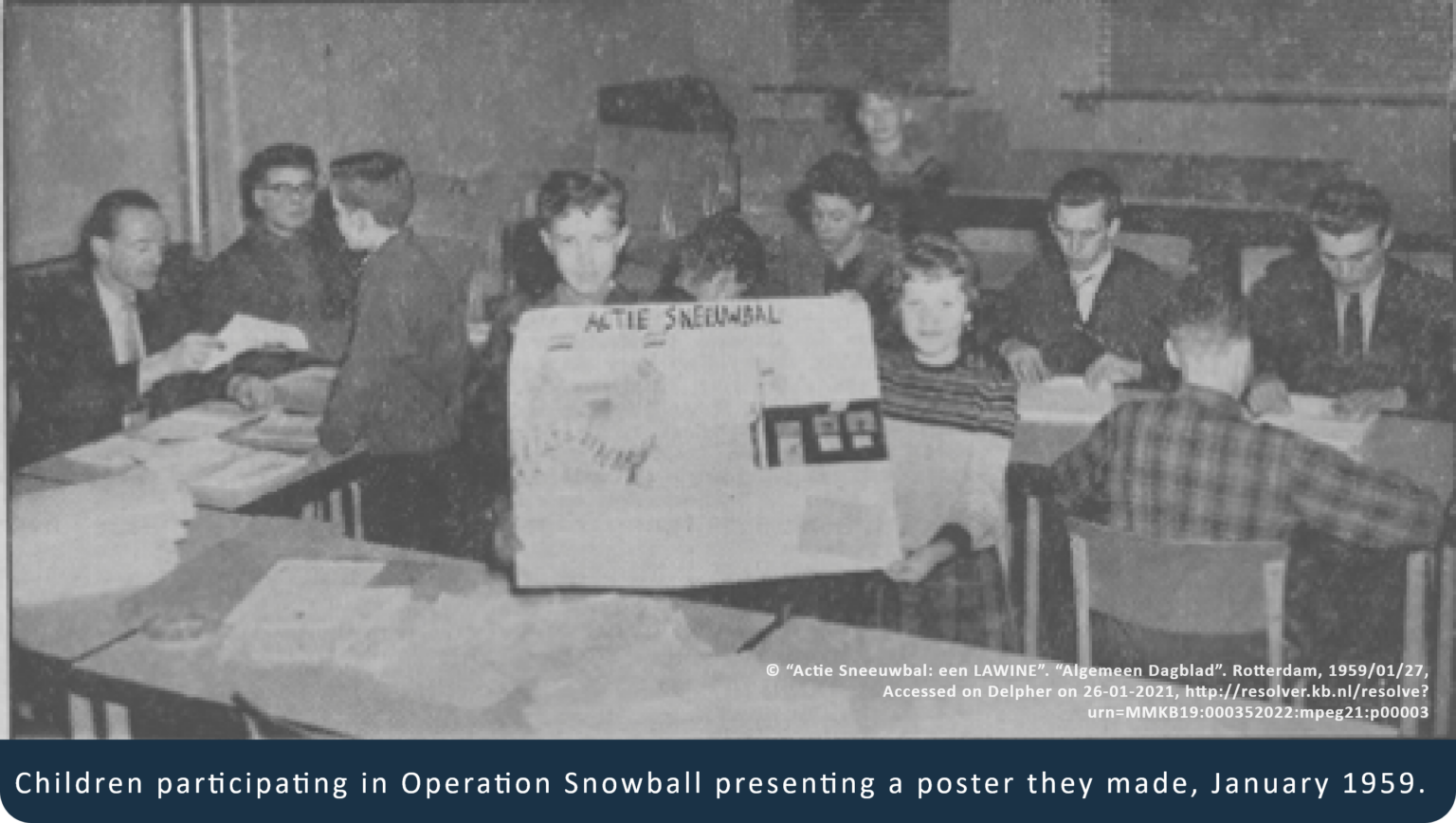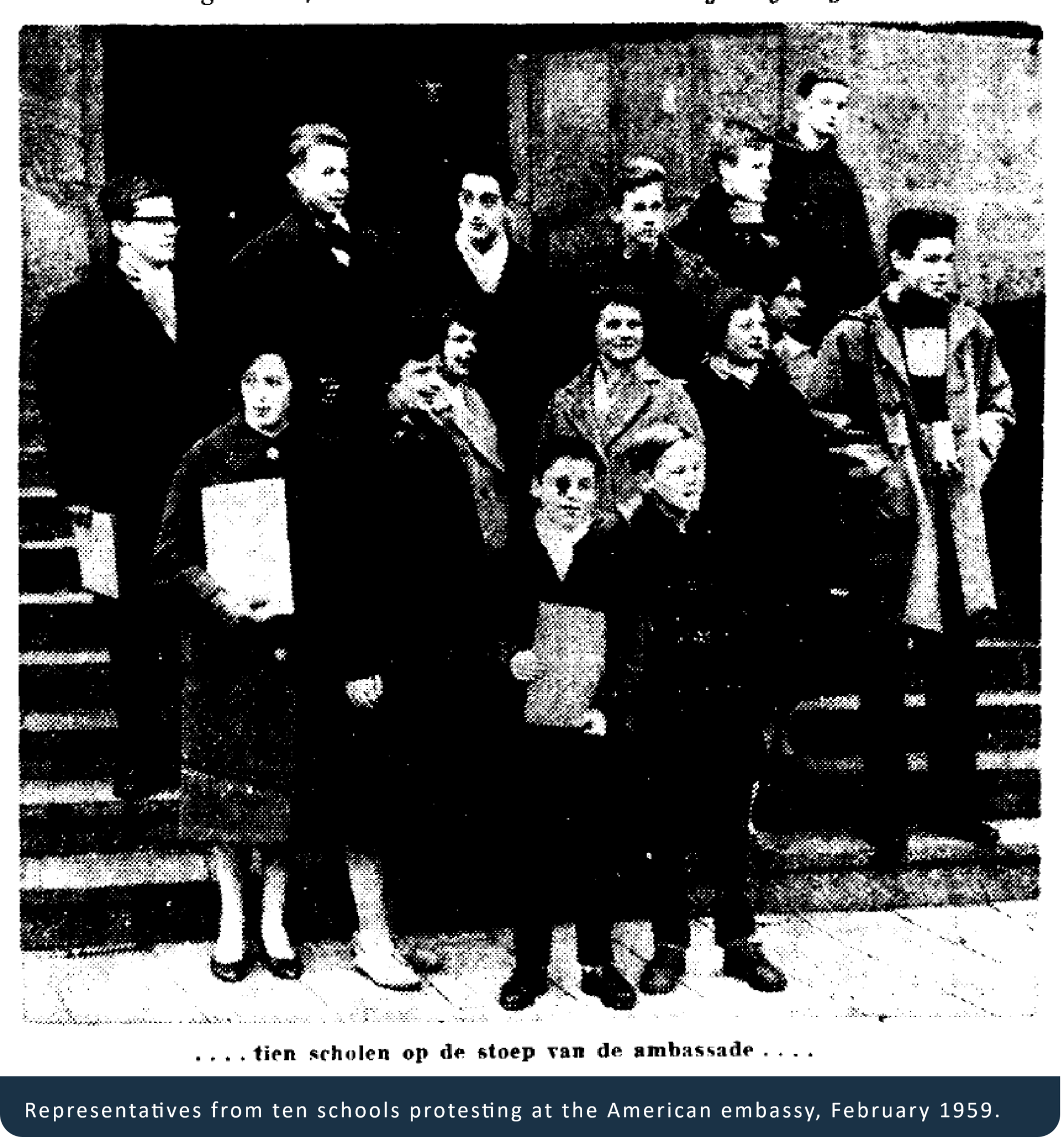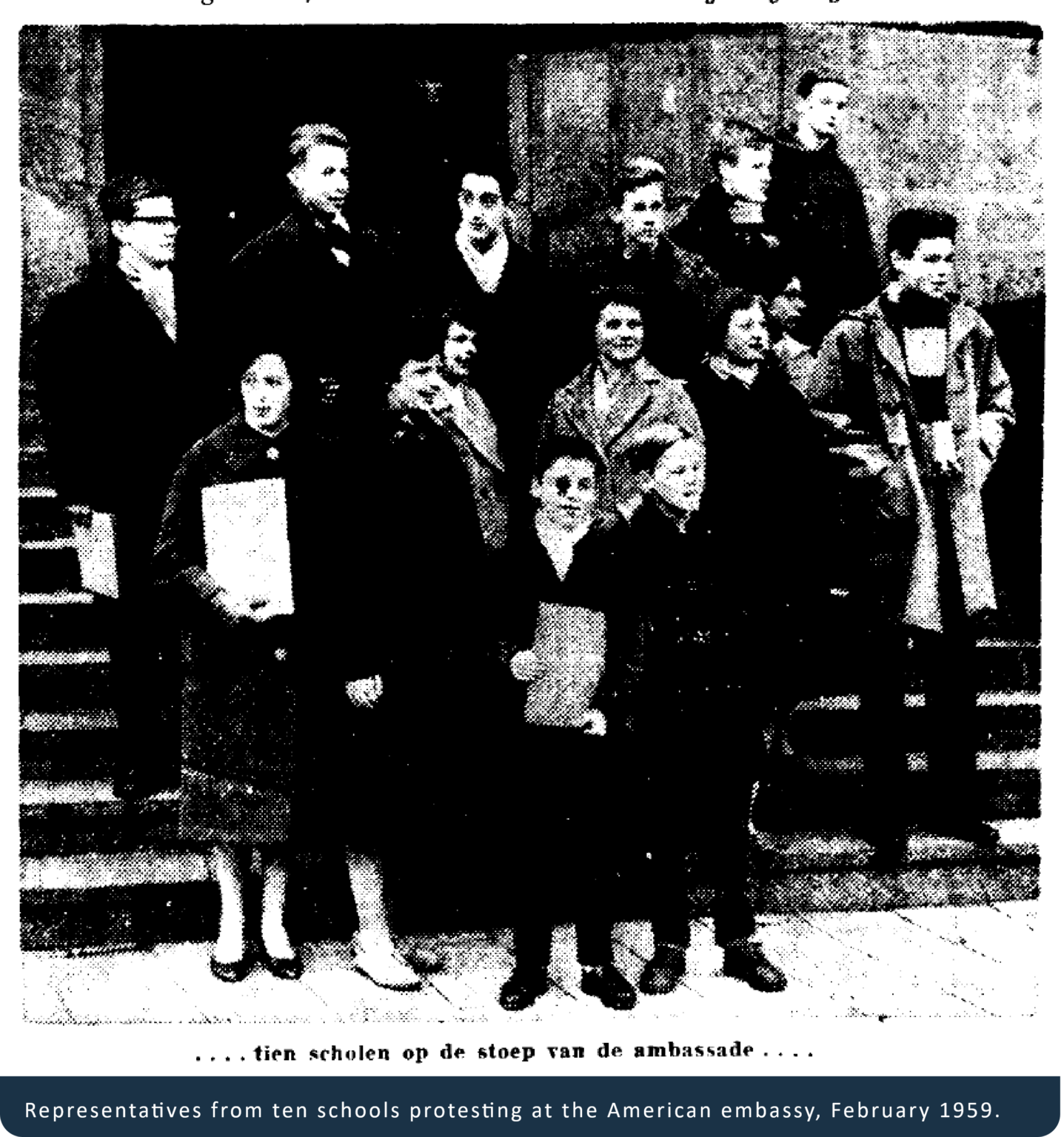 © "Onzeker". "Het Parool". Amsterdam, 1959/02/06, Accessed on Delpher on 24-01-2021, http://resolver.kb.nl/resolve?urn=ABCDDD:010838487:mpeg21:p007